EURO-RENTALS.COM Advertisement Feature
HIRING A CAR/ RENTING A CAR for your holiday or business trip? Renting a van? Hiring a motorhome?

Insurance for your car hire offering Car Rental Excess Insurance – Car Hire Excess Insurance – Daily and annual policies - Motorhome hire excess Insurance - Van Hire Excess Insurance
As you are Looking for one of the following click on the product type word below
Car Hire excess insurance companies or Van Hire insurance companies - Motorhome / Campervan Hire insurance companies or Mini bus Hire excess insurance Advice on car hire- motorhome hire or van hire Here..
Single/Daily and Annual car hire excess policies from
also Car Club, Motorhome Hire and Travel insurance
__________________________________________
Questor offering Car Hire excess insurance, Motor Home excess insurance, Van Hire excess insurance, Minibus Hire excess insurance, Travel Insurance and excess insurance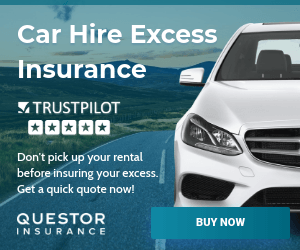 __________________________________________
Choice of Daily and Annual car hire excess insurance products below - also a range of travel Pet, Wedding & Gadget Insurance via Blue Insurances Here
__________________________________________
__________________________________________
Daily and Annual Policies car hire and Car Club Insurance from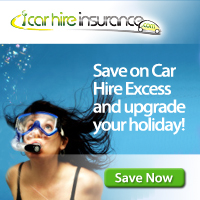 also Van Hire excess insurance
__________________________________________

___________________________________________________________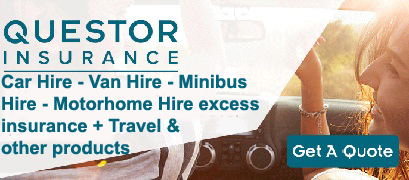 __________________________________________
__________________________________________
__________________________________________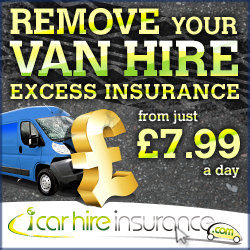 __________________________________________
__________________________________________
__________________________________________
Go to main insurance4carrental.com site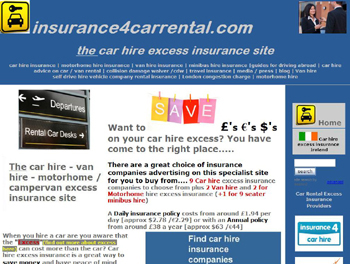 advice on car rental (or van / Motorhome rental)...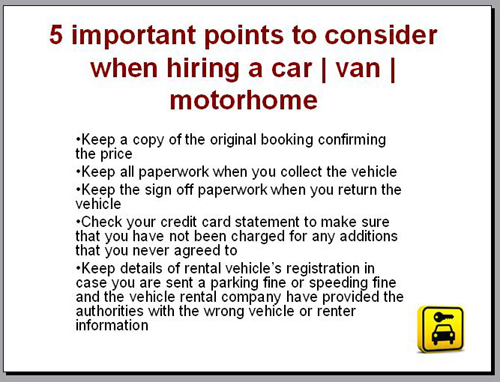 Before you leave home - Ensure that you are carrying both your picture and paper driving licence (the paper licence shows any endorsements you may have) and your passport (if visiting another country) and travel tickets and car hire paperwork.
When you collect the car:
Check the vehicle for damage
Check the spare tyre
REMEMBER:
Most car rental locations require a credit card

Most car rental locations will not accept debit or Switch, Maestro cards or similar they must be a credit card. It is worth checking in advance if they accept American Express or Diners Club

You must have held a valid driving licence for one year

UK licence holders should note that many car hire outlets will not release the rental vehicle on sight of a photocard driving licence without also seeing the paper licence counterpart.They may also ask to see the paper licence counterpart of all named drivers.

Some car rental companies insist that you have held a full driving licence for one year and also must be over 25. Check in advance as it could mean when you reach the car hire desk, they will not let you rent a car.

Always ask what is included in the rates quoted

Never initial or sign an agreement without asking about each item

Do not over insure. If you have travel insurance you do not need personal effects or personal accident insurance

Pre-purchase or Pre-reserve your car rental

Remember to book child seats or a roof rack in advance, particularrly in peak holiday times.

Plan the journey in advance - Some car rental companies provide maps, some will rent you a sat-nav system

Purchase from agents within your own country in case you need refunds or assistance

When you pick-up your vehicle determine where the drop off point is for your return

Ask if the return area has an attendant. If not, who do you return the car to?

If you leave the vehicle without check-in, examine it for damage and photograph it from every angle.

- The Vehicle Condition Report (VCR) - Check your vehicle carefully for signs of damage before driving away. This can be difficult some times if you are in a hurry, it is dark, it is raining, or very very hot and you are in a hurry and have been waiting for the car to be prepared and if it has just been washed and is not dry- however it is very important.

If they have identified certain areas of damage on the plan of the car and not all of them, return to the hire desk and get the additional damage signed off.

Take photos of any damaged areas when you collect the car/van/campervan. Sometimes these are very small. This of course is difficult to do in bad weather conditions or at night. Examples of damage to look out for below:-

Left: Small scratches on door handle and dent on edge of door

Right: Scratches and blemishes on paintwork Left: Bad scatch on door

Right: Black scratches above tyre

Check the rental agreement: The rental agreement will normally include a section for the hire company to record the damage that has been identified. Let the car hire company know if damage has not been recorded before you drive away, even if you are anxious to get going. If you have identified damage let them know.

Drink drive laws vary from country to country - for example in Italy if you have a glass of wine and a grappa with dinner and you are stopped by the police - you will be fined. See also Drink Drive Laws - Examples of what can be drunk at present

Know your speed limits - these vary from country to country.

Speed / Radar cameras certainly apply to rental cars as well! The rental company will be notified and the renter contacted by the authorities. Speed traffic camera information is now being sent from one country to another. e.g. someone caught speeding with a French registered car in Italy will find that the fine will be reported to the French authorities if it is not paid.

Fuel in the car You should check that there is a full tank of fuel (Petrol / Diesel) and normally you should return it full. Car hire companies will often charge an administration charge to fill it up plus the price of the fuel that might be higher than at the pump. Some companies have even put stickers on the speedo stating to return it empty. Take extra care here.

Make you fill the car with the correct fuel, most car hire companies issue a warning either with the car keys like the one above or on the outside or inside of the fuel tank cap.

Familiarise yourself with the vehicle - Make sure you know where the controls for essential instruments such as headlights, hazzard warning lights and the horn are located. Adjust your seat and wing mirrors accordingly.

Check with the Hire company if you can take the car out of the country you are renting in.e.g. Going from France into Italy or if renting in Ireland can you take the car into Northern Ireland or into the Republic of Ireland. You will probably have to pay for crossing the border in Ireland.

When dropping of the car make sure you remove or personal belongings and have it checked in and signed off.

The majority of vehicle hire companies class snow chains and winter tyres as optional extras on winter holiday hire packages.

Car Keys: It can be costly if you lose those car hire car keys - GBP £250 or more See our info page Here
The above information has been supplied by a third party and jml Property Services (euro-rentals.com / insurance4carrental.com / jml Property Insurance.co.uk / jml insurance.co.uk) takes no responsibilty for it's accuracy - September 2009
The following information is provided by a major UK Car hire company. It should not be relied on for accuracy as other companies would have different definitions. When you go to collect the car you might want to find out the individual company's definition.
This Uk Company say that they do not regard the items listed below as damage, but "fair wear and tear" therefore it is not required to be recorded
Paintwork, Boddy, Bumper and Rubbing Strips.
Marks and surface scratches of less than 25mm that do not penetrate the top coating and can be readily polished out (such scratches cannot be felt with a finger nail and will not be visible if water is rubbed across)

Stone chips of up to 2mm without a dent
Windows Glass and Lamp lenses
Marks that can be readily removed
Alloy wheels, Trims and Tryres
Marks and surface scratches that do not penetrate the top surface and can be readily polished out. (Such scatches cannot be felt with a finger nail and will not be visible if water is rubbed accross)

Even tyre wear appropriate to the mileage of the vehicle
Interior and luggage area

Car hire excess insurance policies available for 75 - 85 year olds
Age no barrier to protection for older drivers – Low cost excess waiver policy helps over 75s stay on the Road - March 2008
How old is too old to rent a car? MSNBC - October 2011
Other related articles:
A great choice of car hire excess and travel insurance companies at jml insurance sites -August 2015
Car Hire Excess Insurance Discounts Continue in 2014
Are women renting vans much in 2011?
Five important points to remember when you hire a car, van or motorhome
_____________________________________________
Guides of Driving in Europe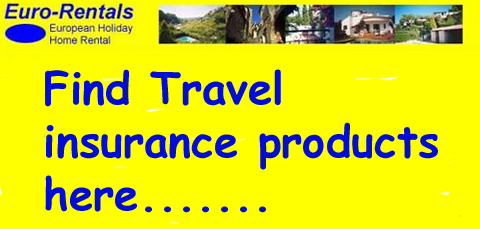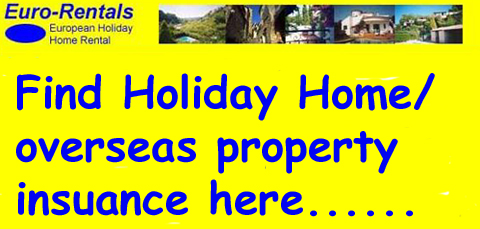 _____________________________________________
euro-rentals.com is a trading name of jml. jml Property Services acts purely as an advertising service for insurance companies.products on this website. We are not insurance brokers and are unable to offer advice or deal with any of our advertisers enquiries.
All dealing must be with the insurance company that you will gain access to via a link from this website. jml Property Services are unable to give advice either verbally or in writing regarding insurance or assist with changes to insurance policies that you have taken out.
You must contact the insurer direct. We are therefore unable to provide any quotes ourselves as we would be breaking the law.
jml, jml Property Services, jml Insurance, insurance4carrental.com & euro-rentals.com are Trading names of Jeffrey Milner Ltd Established in 1979.