Are women renting vans much in 2011?
In the same month that the European Court of Justice is to ban the use of gender in insurance policies from December 2012 in UK and following on from the Davies Report on inequality in the boardroom in the UK, men are still the main renters of vans.
___________________________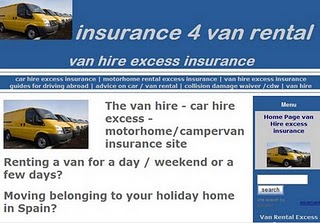 Just over a year ago www.insurance4vanrental.com was launched to advertise van hire excess insurance products. In February 2011 out of sixteen sales that was generated only one was for a woman. This has been a typical percentage for the past twelve months.
This is probably true due to the fact that the majority of vans are driven by men, however do women ever hire them on their own? Probably not that often compared to the thousands of cars they rent each year.
Whenever you drive on the UK's motorways, you don't actually see too many female van drivers.
Looking at sales of car hire excess insurance, the majority of people buying this appear to come under the "male" category. Is this because there are more male business people travelling and hiring a car, or do these come from the holidays and breaks that people take and the "male" in the household makes the booking and rents and drive when on holidays?
Ten years ago we rented a van to drive to France to take furniture and equipment to our holiday home. The rental agreement was in my name, but my wife and son were insured to drive the van and shared the driving. Would this also be typical of someone renting a van in Birmingham to move house or go to IKEA to buy a quantity of furniture?
I have found that some car hire excess companies cover all the drivers who are renting the vehicle insurance, however the "lead driver" is often male.
When you take out car hire (van hire or motorhome hire) excess insurance there is no difference in costs for a man or women. Drivers over the age of 75 (to around 85) will have to pay more and this is of course different to the "Gender issue" for car insurance in the UK.
Will there be much change in the year ahead on the van hire excess insurance sales in the next twelve months? I doubt it.
It is most important however if you rent a van that you take out the approriate van hire excess insurance and buying on line from an independent van hire excess insurance company will usually cost you a lot less than by buying it from the van hire company itself.
©Philip Suter of jml Property Services - March 2011
N.B. This information should not be relied on for accuracy and is presented here without the responsibility of jml Property Service and the website it is being displayed at. jml property Services 03-11
See also
Five important points to remember when you hire a car, van or motorhome